💖The material is made of safe and non-toxic medical silicone (TPE), which is soft to the touch and feels almost the same as real people.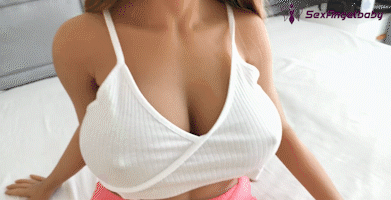 💖The hinged metal alloy frame at the core allows her to pose as a real woman in any position.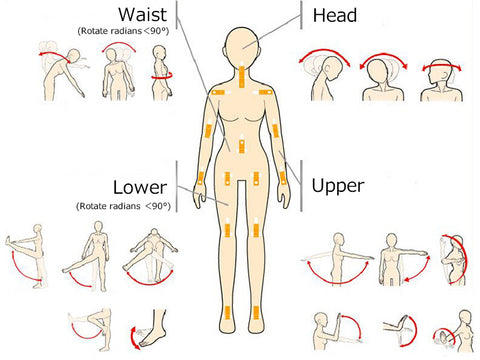 💖All TPE sex dolls have 3 holes (anus, vagina, mouth) and silicone doll have 2 holes (anus, vagina) to bring you the ultimate sexual pleasure.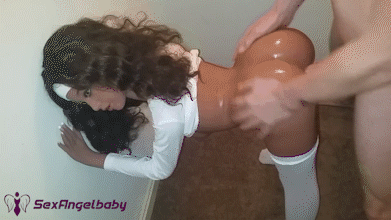 💖Guaranteed privacy. Your privacy is very important to us. Our discreet packaging allows you to shop with confidence.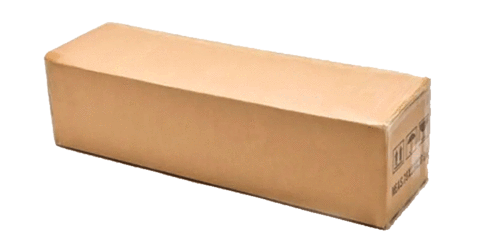 💖Safety certificate - Each sex doll is made of medical-grade TPE. Conforms or exceeds the safety requirements of ASTM F963 and EN71, which is safe for contact with human skin.
Product Specifics

Material: 100% TPE with metal skeleton
Height: 5ft4 (165CM)
Weight: 88Lbs (40KG)
Bust*waist*hip: 83cm*52cm*81cm
Oral*Anal*Vagina Depth:13cm*15cm*20cm
Functions: For oral / breast / vagina/ anus sex
Vaginal choice: Built in vagina or Removable vagina
Breast selection: Solid breast or Hollow breast
Package size: 156*40*30cm
Product gifts: Cleaning tools, combs, gloves, wig, sexy lingerie
Note: 
Size for manual measurement, there may be several centimeters error, belongs to the normal phenomenon.

Due to the difference between different monitors, the picture may not reflect the actual color of the item. 
Shipping Information

Free Shipping to the US and Europe

Discreet Packaging - the box is completely plain and unlabeled
Package includes:
1 * Sex Doll

1 * Wig

1 * Blanket

1 * English Manual

1 * Vagina cleaning tool

1 * Lubricant

1 * Clothes(Sexy Lingerie, Sent at random)
Sex Doll Additional Information
Breast Option: Normal or Hollow or Jelly
When I squeezed Normal, my fingers & thumb would make an indentation, and it's very resilient, but a bit solid. Laying on top of them was pleasant. It is 90% close to the real breast.

When I squeezed Hollow, my fingers & thumb came together with only the TPE material between them. Laying on top of them they didn't flatten out (they felt great), or when I raised myself up on my elbow to feel her breast, they felt great. It is 95% close to the real breast.

Jelly breast is the main material for breast augmentation. 99% close to the real breast. When I squeezed Jelly breasts, It makes me feel that it is soft and elastic, I enjoy it so much that I can't put it down.

Hollow breasts and Jelly breasts have a lot more jiggle in my experience. All feel great, but I got to give credit to TPE dolls when it comes to breasts and ass. All of them feel amazing and jiggle like crazy. Note that hollow breasts and Jelly breasts may not be available from all manufacturers and for all models. Usually, for smaller breasts, the breast option is not available

Feet Option: Normal or Standing
Normal feet cannot stand because of the balance thing. Also, it may ruin her feet if you make her stand by force. So never try it.

A sex doll is composed of an outer flesh-like material, such as TPE or silicone, which surrounds an internal heavy metallic skeleton. The majority of sex dolls are in 60-90 lb. range. Some sex dolls can weight near 100 lbs. This downward force would easily penetrate through the 0.5-1.0" of flesh on the bottom of the feet if the doll were to be stood up on its own, even once. The "standing feet" option adds threaded bolts to the bottom of the doll's feet, three per foot, which connect directly to the internal skeleton. This way when the doll is stood up, the weight is applied and transferred through the bolts and not transferred through the soft flesh of the bottom of the doll's feet.

While for standing one maybe not the most pleasing in appearance to have metal coming out the bottom of the feet this solution seems to be an industry standard and makes the doll much more practical for posing, handling and wearing shoes. This option not only gives stability to the doll but allows robust protection to the feet elongating the lifespan itself.
Vagina Option: Fixed or Removable
The built-in or fixed vagina is exactly how it sounds. The vagina is built-in to the doll just like a real woman.

The removable vagina is a sleeve or fleshlight-esque tube that you can insert and remove from the doll. The tube is held in place by the doll's labia.

Which is better? Most of our customers prefer the built-in vagina as it provided the most realistic experience, however the removable vagina is easier to clean and replace. If you value complete realism you'll want to get the built-in vagina, if you want something that is easy to pop-out and clean after use you should consider the removable vagina. It should be noted that this option is only available for dolls over 145cm.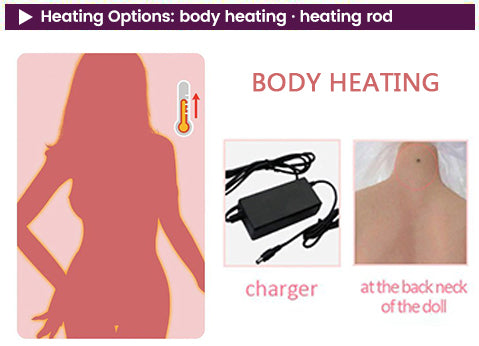 Internal Body Heating Systems

Our sex dolls offer an internal heating systemthat allows you to easily heat the dolls body from the inside out. This method, although the most is expensive, will give you the best results for consistent heat throughout the dolls body.
How does it work?
Wiring will be run through the doll's body and there will be a plug outlet somewhere on the doll's body. The doll will also come with a wire that will plug into the doll's body and the other end will run to the wall outlet. On the wire is a small control panel where you can set the temperature you want your doll heated to. Once set, the doll's torso, vagina, and anus will reach the temperature in about 30 mins and will be ready for use. 
Advantages
Most realistic experience.
Consistent heating throughout the doll's body with the touch of a button.
Easy to use.
Disadvantages
Extra cost - does not come standard with each doll.
Difficult or impossible to repair if the system malfunctions or stops working.
Electric hips
The electric hip is controlled by the switch button, which can be turned off when not in use.
If you customize the heating function of the doll and the electric hip at the same time, then she will have two power connections: the heating function interface (48v) behind the neck, and the electric hip charging interface (24v) at the waist.(You will receive two chargers, please use the instructions of the charger)
Notes:
When using the moving doll, it should be used on the soft bed to avoid sharp or hard objects damaging the skin. Please adjust the doll's posture before playing with the doll. It is forbidden to adjust the posture or turn over when playing with the doll. Please turn off the switch or cut off the power when adjusting the posture of the doll. Please let the doll rest for 10-30 minutes after playing the game for more than two hours. After each interaction, please clean, powder and maintain the doll.
Please note: We will not be responsible for skin pricking or mechanical damage caused by improper use.
External Heating Devices

All dolls will include a small external heating device with each doll purchase. It is free of charge and without having to specifically request it.

How does it work?
The device will be a small heating wand with a USB plug that you can insert into the doll's vagina or anus to heat it before use. 

Advantages
Cost - included for free with the purchase of your doll.
Easy to use.
Easy to replace if needed.
Disadvantages
Heating limited to small area, not full body like the internal systems.
Less realistic than internal body heating systems.
Intelligent moaning system
Intelligent moaning system with body sensors including a vaginal sensor, left breast sensor, right breast sensor(there are pronunciation chips inside), How to use: The moaning switch set on the back of the doll body. Please turns on the intelligent moaning system. that reacts to your touch vaginal, breast with erotic sexual moaning responses – you'll know when you are pleasing her. Her very sexual and intimate voice responses let you enjoy the ultimate orgasm. When not in use, please turn off this button. 
Shipping Fee
Shipping to the U.S: FREE Standard Shipping
Shipping to rest of the world:The shipping fee is about 5-10% of the product price
Delivery Time :The doll in stock US or EU delivery total time 2-7 days(Because now is the peak season of Black Friday, so the logistics will be delayed. We hope you can understand.)
Delivery Time = Handling Time + Shipping Time (+ any holidays)
Handling Time
We check inventory every day to ensure that there are sufficient stocks for every product. Order processing time can range from 3 - 5 business days, depending on the selected customization options and the number of orders in queue.
*Please understand that a sex doll is a customized product that is made-to-order according to the customer's specifications. Although we strive to ship every order in the above time-frame, processing time could be slightly longer in exceptional cases.  
Shipping time depends on the shipping methods you choose:
*Unable to send address: P.O.BOX
1.Expedited Shipping
It will take 10-15 days for delivery depends on your location.
2.Standard Freight Shipping
It will take 25-35 business days for delivery depends on your location.

Note: we are experiencing manufacturer and distribution delays. At the same time, orders are shipped via UPS or FedEx are also experiencing delivery delays. It will take 15-20 business days for delivery depends on your location.
Canadian delivery time:
1.Standard Shipping
First, our custom dolls should take 3-7 days to complete production. Then it is shipped by ocean container ship from our factory to Vancouver, Canada and then picked up by UPS. Once your package is released and inspected, we will arrange local shipping and then your UPS tracking number will change to active status and be sent to the your address. Recently delivery has taken 8-9 weeks (previously it only took 4-7 weeks, but there was a 14-28 day delay with port congestion in Vancouver).
*Because of the special Canadian sea transport, sea transport logistics status of canadian order is not open freight inquiry, so there will be 30-40 days when customers are unable to check the logistics status, but our company can check through the shipping system. If you order a Canadian shipping order, please contact us to check the logistics status, after the package reaches Canada, UPS will update the logistics status and delivery of your order, thank you for your understanding.

2.Expedited Shipping
Factory production dolls take 3-7 days, 10-15 days sent to customer address
Has my order been dispatched yet?
Most orders are generally dispatched within 3 days (Excludes Weekend) but may up to 5 days, sometimes longer. You will receive a dispatched email when your order has been dispatched, please check your SPAM/Junk box just in case it slips in there. If you cannot find your dispatch email, contact us at us, and we can give you realtime information on whether your order has been dispatched or not. It always takes 1 to 2 days before the package is checked into the carrier's tracking system. Since the sex doll is a special product, only one ship is shipped once a week, so tracking numbers usually update in 3 to 7 days.
Do your prices include VAT?
Yes, VAT is only for orders within the EU (European Union)
My item arrived broken or damaged what can I do?
If your product is damaged please reject the item and take a photo in time. Contact us mail as soon as possible. We will arrange a new shipment within 48 hrs. We are not responsible for any damages to boxes, cases or other packaging. This is the carrier's responsibility to handle them with care, we have no control over this.
Why did I not receive a confirmation email after placing the order?
There's a good chance that our email has ended up in your SPAM/JUNK folder so please do check there. If you still can not find it, please do let us know.
I don't have a tracking number, when will I get it?
When you receive your dispatched email, it will be there most of the time, if you can not find it, please email us at us for an update on your tracking.
For more shipping information, please contact us via email or filling out the 'Contact Us' form, we will usually get back to you within 2 hours.
Shipping Delays
Sex Angelbaby shall not be held responsible if shipments are delayed for any reason beyond SexAngelbaby control.

These terms are accepted when placing an order at SexAngelbaby.
Some customers ask whether our website support payment via a debit or credit card? The answer is 'Yes', because PayPal supports payment with a credit card or debit card, here are the steps: 
(1) Choose the option you like, click 'ADD TO CART'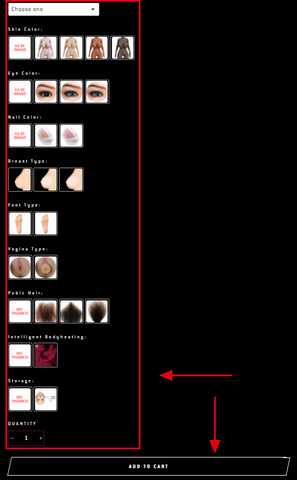 (2) Click 'CHECKOUT", or click PayPal directly and pay it If you had confirm the bill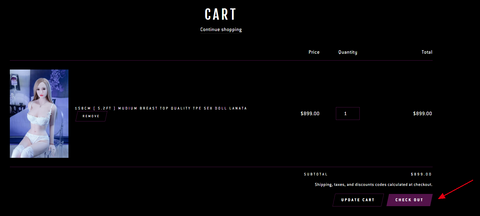 (3) Click 'CHECKOUT', fill in 'Shipping Details' and confirm it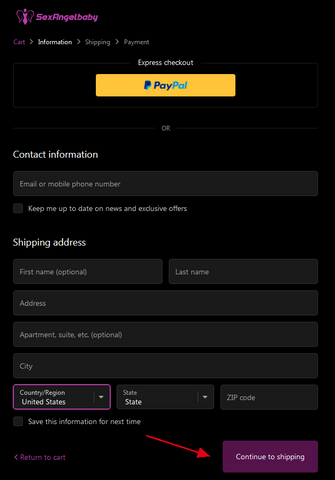 (4) Choose the shipping method (only standard freight shipping available now) click 'Continue to payment'
(5) Check the amount you will pay, choose 'PayPal Payment. Click 'Complete order'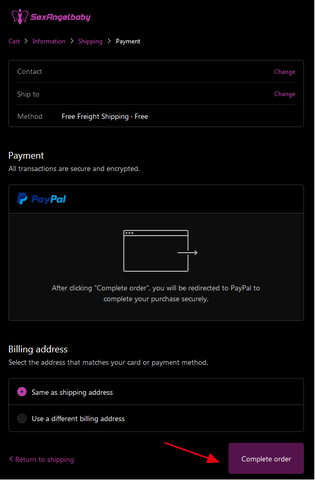 (6) Choose pay with a debit or credit card (PayPal users fill the blank, click "Log In" and pay with PayPal)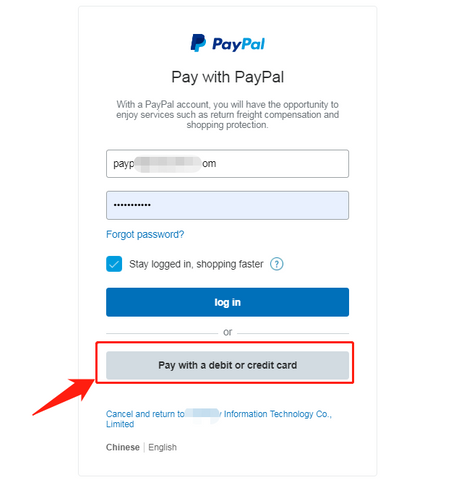 (7) Fill the blank, click 'Immediate payment' to complete the payment.
If you encounter any difficulty in payment via a debit or credit card, please never contact immediately via email at support@sexangelbaby.com